Brown Law was formed with a fundamental goal: to provide high-end legal counsel
with integrity. We are driven by the understanding that many of our clients face
life-altering challenges. We thrive when the stakes are highest. Because of our past
success, we are confident that we can deliver for you.
Brown Law Wins the Hardest Cases
At Brown Law, we handle the toughest cases. Whether that means challenging a life sentence or defending a client at a federal jury trial, we thrive on the fight and are driven by a singular goal: winning.
Our results speak for themselves:
7 life sentences overturned.
Not guilty verdict in U.S. v Dontray Johnson.
9 clients granted federal compassionate release.
Wiretap suppressed in U.S. v. Goods.
Mohammad Biglari freed after 27 years in prison.
Charges dismissed: money laundering, fraud, identity theft, assault, guns.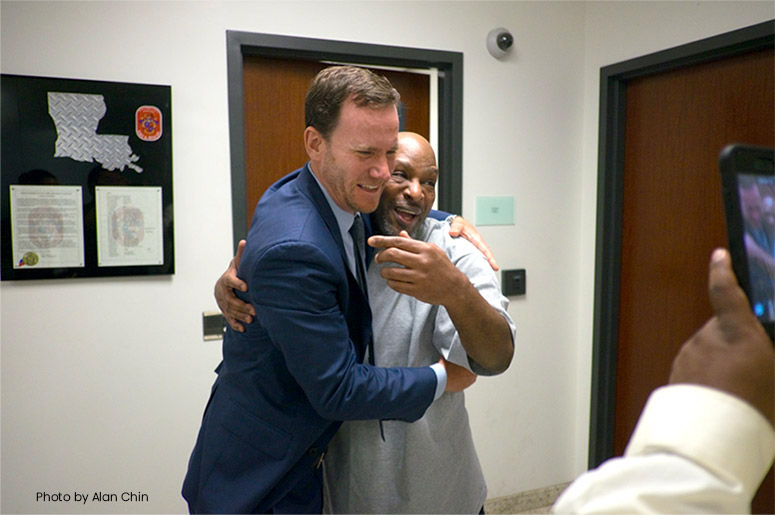 Brown Law frees Lloyd Hall after 34 years in Prison.
"Brown Law changed my life. The Brown Law Firm and their top-notch attorneys were able to successfully litigate my case where countless other attorneys and law firms could not. The highly skilled legal team of Justin, Lylian, and Carolyn are professional, prompt, compassionate, and most importantly they get results! I will recommend the Brown Law Firm to everyone I know. Completely satisfied client,"
Christopher McDonald
"Justin did a tremendous job representing me in connection with an aggressive federal agency. Even as a small shop he can successfully take on the most sophisticated and well-funded opposing parties and counsel."
David Wiechert
"The Brown Law firm was very impressive. Both Lily and Justin are extremely empathetic, organized, professional, strategic, and sharp. I received the desired outcome for my case. I highly recommend Brown Law to anyone seeking a fantastic attorney and excellent customer experience."
Blushing Bombshell
"Mr Brown really made me and my husband feel comfortable with talking to him and even when we got worried about the case Mr Brown never broke a sweat. He made us feel like he really cared about the outcome of the cases he handled for my husband. He really cares, it has nothing to do with the money, he wanted the best for our family. Best lawyer in Baltimore that I know about so far. HOPEFULLY I wont have to need a lawyer again but if we ever do, Mr Justin Brown will be my first call. Lovely, friendly, honest and approachable man."
Natonia Jones
"Justin Brown and his team are nothing short of amazing! They keep you informed, treat you like family and never stop fighting for you. Whenever we was worried or had questions they was just a call, and email or a text away. To help with all matters not just the one you hired him for. We will for ever be connected. Our Lincoln Lawyer (insider) lol!"
Chilaunda Johnson
BROWN LAW

in the spotlight